Is skydiving without a parachute still skydiving? Is a band without mates still a band? Studio daredevil Dan Markosian affirmatively answers the latter question with his musical alter-ego Motor Ballet. His music? Imagine contemporary Broadway (without the jazz hands) meeting alternative rock, texturally advance sounds originally inspired by neoclassical composers Bartok and Stravinsky, a style that has morphed over the years to a sound all its own.
Harmonically sophisticated in an approachable way, Motor Ballet's music has found its way to jango.com and SoundCloud.com. Most notable is the fact that Markosian was commissioned to provide instrumental music to several modern dance companies.The most prestigious being Ririe-Woodbury Dance Company, who performed several of his collaborations worldwide.
One of the things that stands out about Motor Ballet is how his quirk and sense of humor shine through his work. "This Story" for example is told from the perspective of a person getting their welcome tour to Hell and getting the impression that despite what they've been told their whole life – it's not that bad. Then there is "In the Event" which would fit nicely in a Tim Burton film starring who else but Johnny Depp. While his songs bring about a bit of eccentric comical hues, they are far from niche novelties.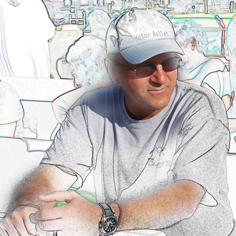 With enough material to release an album, Motor Ballet is waiting on building a wider fan base before doing just that. In the meantime, he continues to compose and record in the studio, willing to create any pieces for commissioned work that comes his way.
FAQ: Is Motor Ballet the Dan Markosian who created Slip Space: The Burma-Shave Analogy?
Answer: Yes